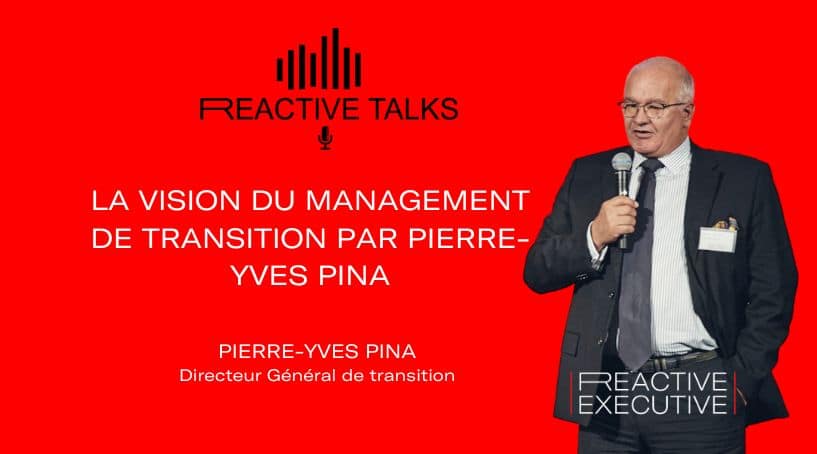 REACTIVE TALKS – THE VISION OF TRANSITIONAL MANAGEMENT BY PIERRE-YVES PINA
– 𝐑𝐄𝐀𝐂𝐓𝐈𝐕𝐄 𝐓𝐀𝐋𝐊𝐒 –
✨ Our REACTIVE TALKS series is coming back in 2023!
Our podcasts aim to inform you about the latest trends and best practices in transition management. We have invited experts in the field to share their experience and their vision of this extraordinary profession in order to help you better understand the challenges and advantages of this practice.
🎙️In this episode, we find @Pierre-Yves Pina, Manager rewarded during our first edition of the REACTIVE BUSINESS AWARDS: With his years of experience in France and abroad, @Pierre-Yves Pina started with a participation the installation of a machining line for internal parts of process compressors. This was an opportunity for him to file his first patent. With nearly 40 years of experience, this man specialized in the industrial sector knew how to take the reins of the companies in which he worked with great ease and quickly understood the issues and challenges they were facing. He shares with you his vision of interim management and its challenges: "We are looking for collective performance, which is why we are also career accelerators because we must reveal and enhance talent".
Thanks again to @Pierre-Yves Pina for taking part in the REACTIVE TALKS game!
Want to share your experience or expertise? Contact our communication department now via the e-mail address "communication@reactive-executive.com" to shoot your next podcast with us!
🚀 Stay tuned so you don't miss our next episodes